| | | |
| --- | --- | --- |
| | | |
▣
Looking back in History
Over 100 Years of Friendship
Korea-Canada relations date back to 1888, when Canadian missionary James Scarth Gale of Toronto was first sent to Korea. Famous in Korea for his creation of the first Korean-English dictionary, Gale also prepared the first Korean translation of the Christian Bible, and wrote the first substantial English-language history of Korea. Noted scholar and philanthropist Dr. Oliver Avison was a personal physician to King Gojong and founded the Severance Hospital in Seoul, and the medical college that became Yonsei University. Dr. Francis Schofield from Guelph, Ontario, became a national hero in Korea for his participation in the 1919 Independence Movement against Japanese colonial rule. Dr. Schofield is the only foreigner to be buried in the patriots' section of the Korea National Cemetery. A total of 184 Canadian missionaries assisted in modernizing Korea's education and medicine between 1888 and 1941.
Canada's greatest contribution to Korea's development was through the 26,791 Canadian troops who stood shoulder-to-shoulder with South Koreans over the course of the Korean War (1950-1953). Canada dispatched the 3rd largest number of soldiers among UN countries and this represents one of Canada's most significant military engagements of the 20th century.
516 Canadians died in action; 379 were laid to rest in the UN cemetery in Korea.
To commemorate the sacrifices and pay an important tribute to those who served in the Korean War, a ceremony of remembrance and wreath-laying is held every year at the National War Memorial in Ottawa and throughout various regions in Canada. The Ministry of Patriots and Veterans Affairs also invites a number of Canadian veterans and bereaved families to Korea every year under the Veterans Revisit Korea Program. Similarly, grandchildren of Korean War Veterans have been invited to visit Korea under the Peace Camp for Youth program.
50th Anniversary of Diplomatic Relations
Korea and Canada established formal diplomatic relations in 1963 and Korea opened its Embassy in Canada in 1965. In 2013, Canada and Korea celebrated the 50th anniversary of the establishment of diplomatic relations. Both countries designated 2013
"
The Year of Korea in Canada
"
and
"The
Year of Canada in Korea
". This anniversary served as an opportunity to look back on the past half century and further strengthen bilateral ties for another 50 years and beyond.


As 2013 also marked the 60th anniversary of the Korean War Armistice,
2013 has been declared as "The Year of the Korean War Veteran" by Veterans Affairs Canada. Also, July 27th has been designated by Canada as an annual Day of Remembrance in Honour of Veterans of the Korean War.

Korea's rapid development, democratic evolution and growing regional and international interests, together with its entry into the United Nations in 1991 and accession to the OECD Development Assistance Committee in 2010 have enhanced co-operation between Korea and Canada in a number of areas such as arms control, disarmament, peacekeeping, and development assistance. In addition, Korea and Canada share membership in the ASEAN Regional Forum (ARF), the Asia-Pacific Economic Co-operation (APEC) forum, the Organization for Economic Cooperation and Development (OECD), and the World Trade Organization (WTO), amongst others.
The Korea-Canada Free Trade Agreement, Canada's first FTA in the Asia-Pacific region,
the 11th free trade agreement for Korea, which entered into force on January 1, 2015,
represents a landmark achievement for both countries. The FTA will increase bilateral trade for key sectors such as automobiles, electronics, energy, forestry, agriculture and fishing industry.
The FTA will also open new doors to collaboration in the areas of pharmaceuticals, rail, steel, aerospace, cultural contents, etc., where both countries have the complementary strengths.
It will generate new trade and investment opportunities and foster innovative partnerships
as well as people-to-people exchanges between the two countries. Korea will be a gateway to the Asia-Pacific market
for Canada and Korea's exports to North America are expected to expand further.

Strategic Partnership

In tandem with the FTA, the new Strategic Partnership was launched in 2014. It aims to bolster the Korea-Canada bilateral relationship through the development and use of a new strategic direction in key areas of cooperation, such as energy, natural resources, science, technology and innovation.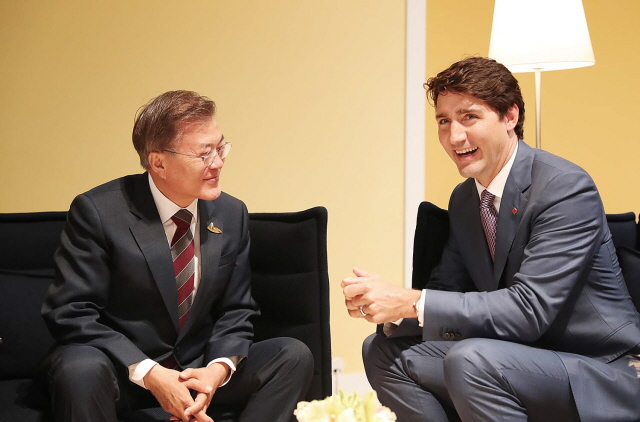 President Moon Jae-in and Prime Minister Justin Trudeau
at G20 Summit (Germany, 2017.07.08)
Korea's President Moon Jae-in, and Canada's Prime Minister, Justin Trudeau, met on the sidelines of G20 2017 Summit in Germany on July 8. They had in-depth discussions on the North Korean nuclear issue and matters of mutual interest. Prime Minister Trudeau suggests that Korea and Canada should discuss common challenges facing both of them. He gave a positive assessment of the Korea-Canada FTA, processing that Korean and Canadian businesses actively utilize the free trade agreement between the two countries to expand economic relations.

Foreign Ministers' Meeting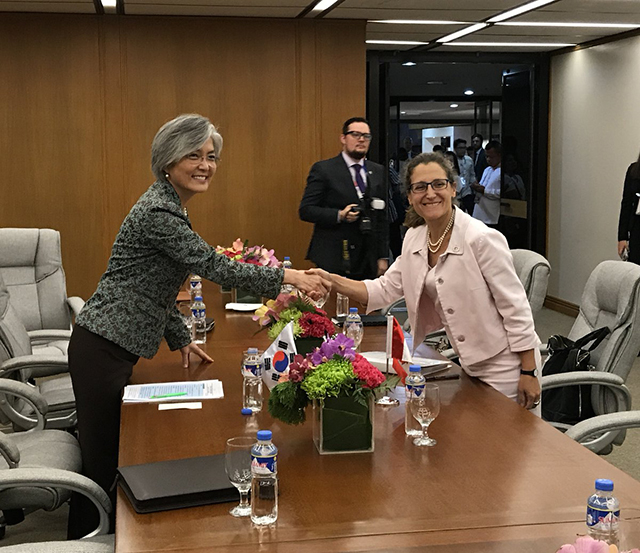 Foreign Minister Kang Kyung-wha met with Minister of Global Affairs Canada, Chrystia Freeland
at the APEC Summit (Manila, 2017.08.06)




Foreign Minister Kang Kyung-wha met with her Canadian counterpart Chrystia Freeland on August 6 on the sidelines of ASEAN-related Foreign Ministers' meetings in Manila. The two Ministers shared the view that North Korea's rapidly growing nuclear and missile capabilities are posing serious challenges and threats to the international community, and engaged in in-depth discussions on ways for the ROK and Canada to work together to solve the North Korean nuclear problem. Minister Freeland expressed hope that the governments of Canada and the ROK will continue close communications on the North Korean nuclear issue, and reaffirmed the Canadian government's unwavering support for the ROK government's position on North Korea and its nuclear issue.
▣
Multilateral Cooperation


Regional and Global Cooperation

As like-minded allies,
Korea and Canada
share similar views on many
global issues and have been
partners in promoting global peace and security.

Canada remains gravely concerned about North Korea's provocative and destabilizing actions, such as nuclear and missile tests and related proliferation, as well as egregious human rights abuses. Canada strongly supports the Six-Party Talks framework as a means to address the North Korean nuclear crisis.
Canada firmly supports Korea's continuing efforts to improve relations with North Korea and to lessen tensions on the divided peninsula.

Taking note of the increasing role of both countries in addressing today's global challenges, both governments are committed to strengthening cooperation in other areas including climate change, development, and the Arctic research.


▣
Bilateral Trade

Korea is Canada's 7th largest merchandise trading partner and its 3rd largest in Asia, after China and Japan. Korea-Canada two-way merchandise trade is robust, reaching nearly $11.4 billion in 2014.


[Korean exports to Canada]
①
Passenger Cars
②
Wireless Phones
③
Automobile Parts
④
Tires
⑤
Steel
[Canadian exports to Korea]
①
Bituminous Coal
②
Copper Ore
③
Iron Ore
④
Uranium
⑤
Pulp
▣
People-to-People Exchanges


There is a dynamic people-to-people exchange between Canada and Korea, with approximately 220,000 Canadians of Korean descent in Canada, 19,000 Korean students studying in Canada, and
more than 23,000 Canadians living in Korea, including
3,200 Canadian English teachers in Korea. Travel and tourism between the two nations is also significant. There are over 266,000 two-way travelers each year.