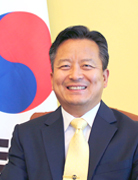 Welcome to
the website of the Embassy of the Republic of Korea in Ireland.
The friendship between the Republic of Korea and Ireland go back a long way. Even before the establishment of diplomatic ties, Irish soldiers have fought in the Korean War, and many Catholic fathers and sisters from Ireland have devoted their lives to helping those in need in Korea. Korea Fantasia, the symphony that later became Korea's national anthem, was performed in Ireland for the first time in the world in 1938.
Today, the ties between Korea and Ireland have grown remarkably and to the mutual satisfaction of both countries. Korean cars and electronics are increasingly popular in Ireland, while more and more Korean tourists are visiting Ireland to experience the beauty of the green isle. Especially with the launch of the Working Holiday Program between Korea and Ireland in 2010, the number of young Korean visitors has increased rapidly.
This Embassy endeavors to further strengthen the relationship between Korea and Ireland. At the same time, it will make every effort to protect and render service to Korean citizens who live, pay a visit to, and have interest in Ireland.
Welcoming once again your visit to this website, the Embassy will continue to strive to make it more useful and easily accessible.


Thank you.
AmbassadorWoon-ki Lyeo