About The Embassy Building
The Embassy of the Republic of Korea is located in Diplomatstaden, a neighbourhood in the Östermalm district of Stockholm.

Skansen, Berwaldhallen, Swedish TV/Radio and Nobelparken are situated close to the Embassy.

The Chancery was built in 1919 and designed by Ivar Justus Tengbom (1878-1968), one of the leading Swedish architects of neo-classicism, which prevailed during 1910-1920.

While the Embassy Chancery is known to be the only building he designed for private use, Ingvar Tengbom designed Konserthuset, Stockholm School of Economics and other buildings.

The Korean government purchased this building in 1993.

The Chancery is well known as Wenner-Gren's Palace. The name originates from Mr. Axel Wennergren (1881-1961), the founder of Electrolux and a big donator to Swedish academic circles. Wennergren lived in this building for a long time.

The building combines the romantic style of architecture that flourished from the late 19th century to the early 20th century with geographical characteristics . It is unique and cannot be compared to other buildings of the same era.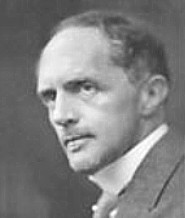 Ivar Justus Tengbom (1878-1968)