(Important Notice)

The Korean Government has imposed following entry restrictions, due to COVID-19.
These restrictions are temporary measures until further notice.
All travellers and visa applicants are thus advised to read the following carefully.

1. Negative COVID-19 PCR test result required for all international travellers (including Korean citizens)
* Children aged 5 or under at the time of entry into Korea are exempted.

From Friday 8th/January/2021, all international travellers entering into Korea (children aged 5 or under are exempted) must carry a negative COVID-19 PCR test result in paper as a part of entry requirement.
The negative PCR test result must be issued within 72 hours ​prior to departure and must include the following information.
① Traveller's Name (as written on passport)
② Traveller's Date of Birth
③ Test Type
④ Test Date(specimen collection date)
⑤ Test Result
⑥ Date of PCR Test Result Produced
⑦ Test Result Provider
Those who do not carry a valid test result will be denied of boarding the flight, as well as entry into Korea.​​
2. Facility Quarantine Agreement required for all visa applicants
Facility quarantine agreement(see the form attached above(Att 3.) is required as parts of additional visa application requirement.
* A-1 and A-2 visa applicants and quarantine exemption certificate holders are exempted.
Please note that the general(usual) visa requirements, according to the visa type that you are applying for, are still required as before. Please refer to the visa information page for details.
3. Visa free entry Suspended
​
Visa free entry for some countries has been temporarily suspended.
The list of the countries affected is attached(Att 1.) above.
Australia is affected by this thus, Australian passport holders now must apply for a visa before travelling to Korea.
Also, visa processing time will now generally take at least 14 days ​from the date when the visa application is submitted at/delivered to the Embassy.
Australian Diplomatic/Official Passport holders and ABTC card holders are exempted, and still can travel without a visa.
​
4. Transit without a visa(TWOV)
Travellers from Australia can transit through Korea without a visa if the following conditions are all met.
① transit within 24 hours
② stay within the transit area only (no immigration clearance, no luggage claim)
​
* Please note that travellers holding passport issued from Egypt, Sudan, Syria and Yemen are not eligible for TWOV.
5. Re-entry permit required for registered foreigners
From Monday 1/June/2020, all registered foreigners in Korea
(for example, foreign registration card holders) must obtain re-entry permit from the Korean Immigration, when travelling outside Korea temporarily and intending to return to Korea.
* A-1, A-2, A-3 and F-4 visa holders are exempted.
If a registered foreigner travels without a permit, his/her foreign registration will be cancelled, thus he/she will not be able to re-enter into Korea.
​
​
6. 14-day quarantine/self-isolation upon arrival in place
​
All passengers arriving from overseas will be required to undertake either
- a mandatory 14-day quarantine at designated facilities for short term(stay under 90 days) visitors like C-3 or C-4 visa category holders.
* the cost of quarantine(upto KRW 2,100,000 in total) will be billed to the passengers at the start of quarantine
​
or
​
- ​a mandatory 14-day self-isolation at their place (for Korean citizens, residents(long-term visa holders) and family members of Korean citizens/residents (spouse, children, parents). * official document that states the family relationship required.
Please note that those who are under 14-day self-isolation must download "Self-Quarantine Safety Protection App" for daily monitoring and reporting. Please see the attachment (Att 6.(Korean) or Att 7.(English)) for download instruction.
Failure to comply with self-isolation requirements may result in legal consequences.

① A-1(Diplomatic), A-2(Official) visa holders and ② Isolation Exemption Certificate holders are exempted from 14-day quarantine/self-isolation.
Instead, such person will have a COVID-19 test carried out immediately upon arrival, and will have to wait for the result at the temporary facility. (This may take 1-2 days).
* A-1 and A-2 visa holders may wait the test result at ​their places.
​
Then, self-monitoring and reporting through using "Self-Diagnosis App" will still be carried out for 14 days.
"Self-Diagnosis App" can be download and pre-installed on your mobile phone using the link below.
| | | | | |
| --- | --- | --- | --- | --- |
| Self-Diagnosis App | QR Code | | URL | |
Please do read carefully the information attached (Att 4.(for A-1, A-2 visa holders) or Att 5.(for Isolation Exemption Certificate holders)) for additional information.
​
7. COVID-19 test for all travellers arriving from overseas
All travellers(including Korean citizens) arriving from overseas will be tested for COVID-19.
(for those undertaking 14 days self-isolation) during the first 24 hours of quarantine/self-isolation period, the test will be carried out.
(for those undertaking 14 days quarantine) during the first 24 hours of quarantine/self-isolation period, the test will be carried out. ​
​​
(​for those holding Isolation Exemption Certificate) same as before, the test will be carried out, upon arrival. * The holder will have to wait at a temporary facility, provided by the Korean government, for the test result, and that may take 1-2 days.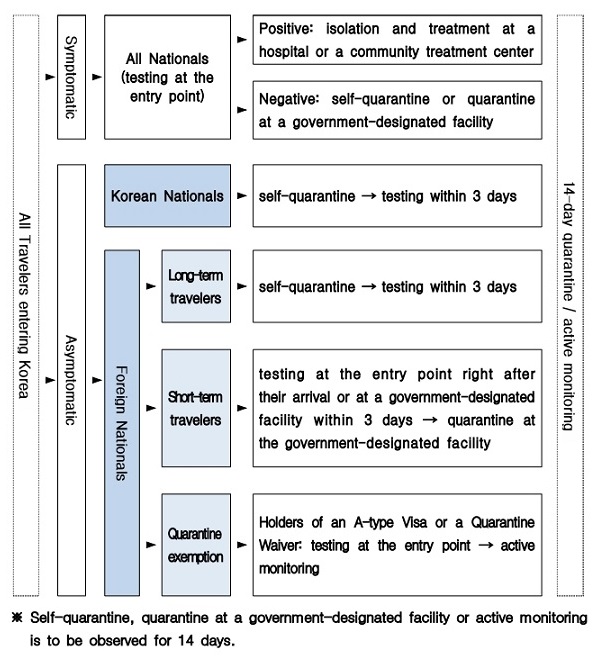 8. Short-term stay visa Cancelled
All short-term(under 90 days) stay visas issued before 5th/April/2020 have been cancelled. Every holder of such visa MUST re-apply for a new visa if the travel intended is essential and to be carried on as planned. However, all non-essential travels are STRONGLY discouraged and a visa may not be granted.
​
* all C-3 visa categories (all entry types - single, double and multiple) are affected(now invalid) but, C-4(short-term employment) visa and long-term stay visas are not affected(still valid).
​
​
9. All passengers arriving from overseas will go through enhanced arrival procedures in their port of arrival.
* valid address of stay, valid phone number which works in Korea, and "Self-Diagnosis App" installed on your smart phone are MANDATORY.
​
10. All visa free entry programmes, for Chinese and Japanese passport holders, are temporarily suspended. A prior visa is required before travelling to Korea.