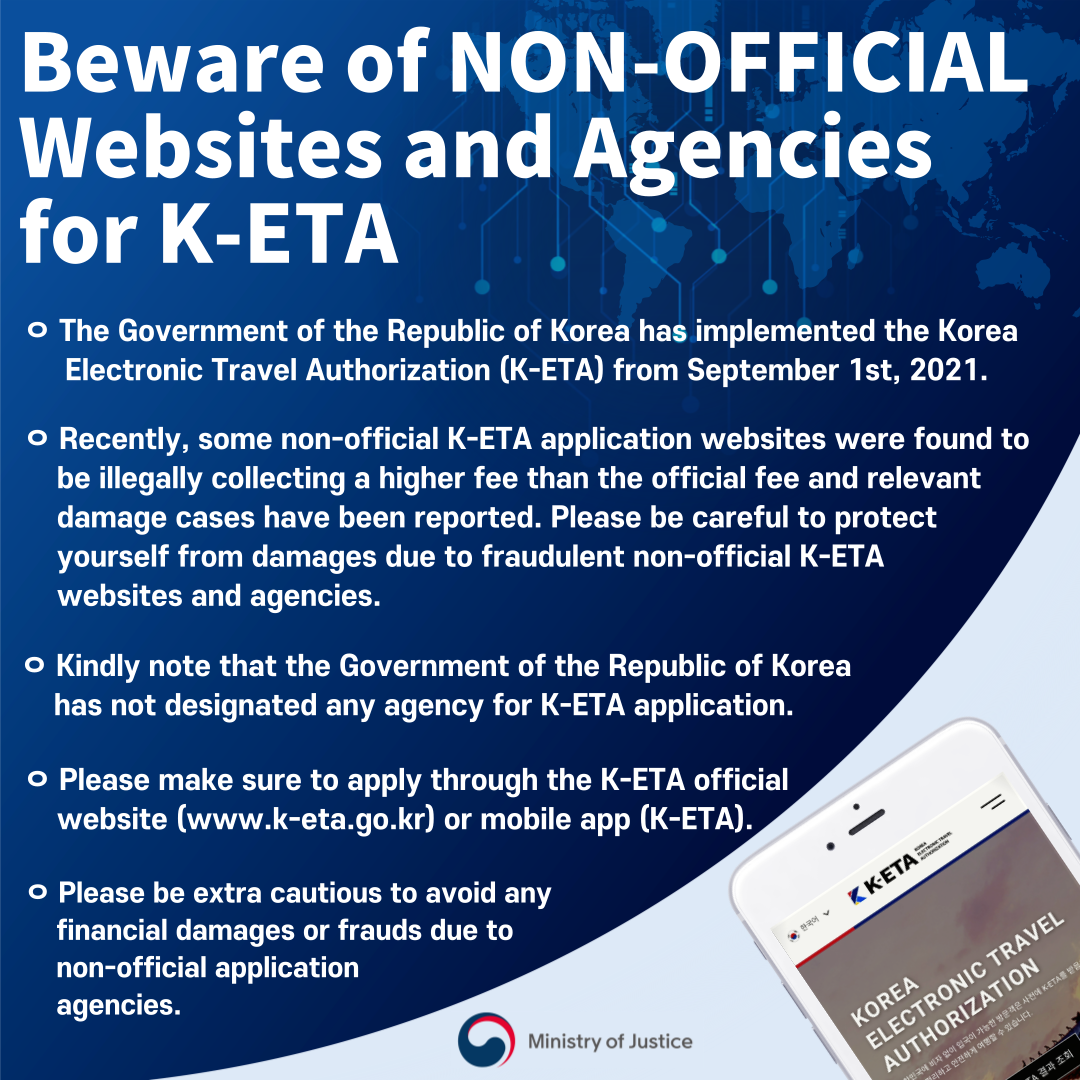 Electronic Travel Authorization
K-ETA is an electronic travel authorization that visa-free foreign visitors need to obtain before entering the Republic of Korea, by submitting relevant information online such as their travel information. Purpose of travel should be tourism, visiting a family member, participating in events or meetings, or commercial business (visits where profit is derived are excluded). With K-ETA, you would be exempted from submitting the arrival card and the immigration process would be quicker.
K-ETA is not a visa. It is an electric travel authorization similar to that of ETA in Canada (everyone entering Canada except PR card holders and Canadians apply for and receive ETA).
Who needs K-ETA?
112 countries (countries that concluded a visa-waiver agreement with the Republic of Korea and designated visa-free entry countries)
K-ETA is currently available only to nationals of 21 countries who are allowed to enter without a visa.
21 countries:
Albania, Andorra, Barbados, Bolivarian Republic of Venezuela, Commonwealth of Dominica, Guam, Guyana, Holy See (Vatican City State), Ireland, Malta, Mexico, Monaco, New Caledonia, Nicaragua, Palau, Saint Kitts and Nevis, Saint Vincent and the Grenadines, San Marino, Slovenia, United Kingdom, United States of America
Eligible countries are subject to change based on the COVID-19 situation. Please check our website and this page for updates.
It starts May 2021 for citizens from 21 countries who can currently enter Korea without a visa. Canada is not one of those 21 countries as the visa-free entry between Korea and Canada has been suspended since April 2020.
The only exception currently is a limited number of Canadian business persons whose business trips are approved as essential by the respective Ministry in Korea through the inviting organization. They will be required to get K-ETA rather than a visa. If you think you may qualify, please speak with your inviting organization for this approval process. The Consulate does not process K-ETA. Please work with the inviting organization for them to apply in Korea on your behalf.
Once this changes and all Canadians need K-ETA, our website and this page will be updated accordingly.
How to apply
Visit www.k-eta.go.kr (PC or mobile app)
You must apply for K-ETA at least 24 hours before boarding your flight or ship bound to the Republic of Korea.
- Your application may be filled out by proxy. You can apply for up to 30 people at once.
Check the result
You can check the result within 24 hours of application either via email or on the website.
Period of validity
2 years from the date of authorization
Fee
10,000 KRW (Additional fee excluded)
- Fee is waived during pilot operation (May to August, 2021)