VISA APPLICATION GUIDELINES
( Updated on 21 December 2022)
(Please READ CAREFULLY from Top to Bottom)
[1: Step on how to apply for a visa]
(STEP 1) Submit e-Form via Korea Visa Portal (You do not have to wait for the approval)
Print and download your e-Form
(STEP 2) Make an online reservation. Walk-in applicant will not be entertained / accepted.
​
(STEP 3) Prepare all document according to the checklist
​
(STEP 4) Submit your application through the Counter
☞Visa process take at least 7 working days NOT including the submission day and may take longer during peak season. Earliest time to apply is 3 months before entry to Korea, as a visa will normally be valid for three months from date of issue.
​
(STEP 5) Review by the Consul
​
(STEP 6) After 7 working days, please check your result via Korea Visa Portal and if successful, download your Visa Grant Notice.
☞You do not need to visit our Embassy to pick up your passport. Your passport will be returned after verification on the day you submit your application. No more visa label on your passport.
☞If your application was rejected, you can only re-apply after 3 months from the date of rejection.
​
-------------------------------------------------------------------------------------------------------------
[2: Eligible Applicants]
1. Applicants with Visa Issuance Confirmation Number (☜ click)
2. Malaysian citizens
3. Malaysian permanent residents
4. Long-term pass holders in Malaysia.
Long-term pass refers to a pass for a stay of one-year or longer in Malaysia.

We do not accept visa applications from those who entered Malaysia under short term visit pass (E.g: Tourist, short-term business travellers and etc.). Those who do not meet the requirement need to apply the visa to Korea from the Embassy or Consulate of the Republic of Korea at your home country or your country of residence.
[IMPORTANT]
Applicants from the FOLLOWING COUNTRIES must possess long-term pass continuously for the past two years, and the validity of the current pass is not less than 6 months.
China

Philippines

Indonesia

Bangladesh

Vietnam

Mongolia

Thailand

Pakistan

Sri Lanka

India

Myanmar

Nepal

Iran

Uzbekistan

Kazakhstan

Kyrgyzstan

Ukraine

Nigeria

Ghana

Egypt

Peru

Syria

Sudan

Macedonia

Kosovo

Cuba

Palestine

Iraq

Yemen

Afghanistan

Cameroon

Somalia

Gambia

Senegal

Exemption from 4:

i. Applicants with invitation from the Korea Government, or invitation from local government authority in Korea

ii. Diplomats

iii. Spouse and underage children of i and ii



[NOTE]
○ Eligible applicants are still subject to the eligibility requirement of each visa type, and must be physically present in Malaysia.
​
------------------------------------------------------------------------------------------------------------------------​
​
[3: How to fill up the e-Form on Korea Visa Portal]
​
※Please carefully read the attached manual (File 1) for further details.
STEP 1
○ Complete the e-Form (Visa) at http://visa.go.kr
​>> English >> Application >> e-Form (Visa) > Fill out the e-Form
1.Do not fill up the visa issuance confirmation number part unless if you have any. The number is issued by the Ministry of Justice in Korea.
2. Incomplete/incorrect form may cause rejection or delay of your visa.
3. The photo uploaded on Korea Visa Portal must be same as the one submitted to our Embassy. If you use different photos, your application may be rejected or delayed.
STEP 2

1. After submission, DO NOT CLOSE THE WINDOW / TAB.
2. If you do, you will not be able to print the e-Form.
3. Your application number should begin with 'MAXXONXXXXXX'
4. After completing your e-Form, print it out and sign on it (parents may sign on behalf of underaged children) before submitting to our Embassy along with other required documents and fees.
​
​-------------------------------------------------------------------------------------------------------------​
[4: Making Online Reservations]
​​
Visit Consular Services 24 (https://consul.mofa.go.kr)
※ Select "Visa for Non-Koreans"
---> Regular Applicants / Visa Issuance Confirmation (if you have any)
​
※ Visa submission booked under Consular Services will not be entertained.
※ Refer to the attached manual on more details for making the online reservation
​
​[NOTE]

☞Please BE ON TIME when you visit our Embassy. If you are late for your appointment more than 15 minutes, your appointment will be canceled and will not be allowed to enter. This is because your late arrival affects the applicant who has booked the next slot.
☞If you could not select any date, that means all slots are fully booked. Current slots are opened for the following 1 month. We open new slot on weekly basis in the morning of every working Monday, or Tuesday (if Monday is holiday).
​
☞Submission by representative is allowed. If submission is through a representative, please make reservation under the representative name and NOT the applicant's name. If the name put in the reservation system is different from the name of the person who visits the Embassy, the entry may be denied or delayed.
​
☞Please make reservation at one time only unless you need to submit for multiple applications on the same day (Maximum 5 applications per slot / 2 slots per day)
​
☞You do not have to make separate reservation for same family members, friends or group.
​
☞The Embassy reserves the right to cancel multiple reservations made under the same name without any notice. If the Embassy notices that you have made multiple reservations without valid reason, your process of visa application will be delayed
​
☞Please print out the reservation confirmation email you receive (or print out your reservation confirmation page of the Consular Services 24 website) and bring it with you when visiting the Embassy.
The checklist written in the Consular Services 24 website is only for a reminder. If you fail to bring all necessary documents, your application will NOT BE ACCEPTED, and you will need to make a new appointment.
---------------------------------------------------------------------------------------------------------------
[5: Checklist for Required Document for Visa] [IMPORTANT]
For detailed information on checklist for required documents for each visa type, please click each visa type below.
※ For information on visa type by purpose of visit, please click here.
※ If you want to apply for a visa type which is not listed below, please contact us via email (myvisa@mofa.go.kr).
​

☞ C-3-1 Short-Term General Visitor
☞ D-4-1 Korean Language Trainee
☞ D-9 Technician or Supervisor (Shipbuilding or industrial machinery manufaturing)
☞ F-1 Family Visitor or Domestic helper Accompanying Long-term visa holders
★ Certificate of Health for tuberculosis screening is not required when applying short term visa (visit less than 90 days) . Please make sure to read the checklist carefully!
★ Consent for isolation is not longer required
​
★ FAQ on Visa Application: Please click ☞here​

-----------------------------------------------------------------------------------------------------------------
[6: Visa Application Fee]
​
​※ To be paid by cash only.
​※ Below are standard normal application fee.
※ Please click here for (1)Countries with adjusted fee & (2) countries with exempted visa fee. Please check if your country is listed with different fee or not.
※ Fee is non-refundable regardless of the outcome.
​
​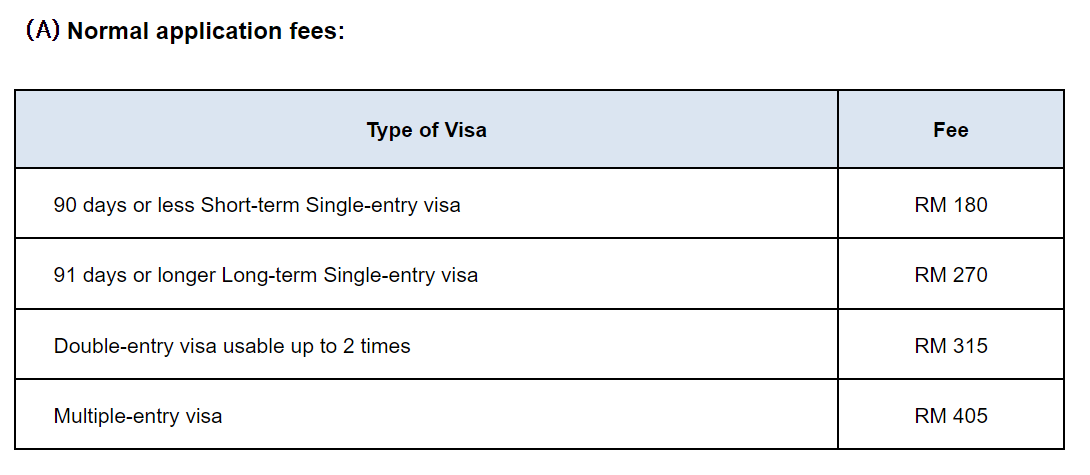 -------------------------------------------------------------------------------------------------------------------------------------
[7: Information for Visa Desk]
​
☞ E-mail: myvisa@mofa.go.kr
☞ Operation hours: Monday ​– Friday // 8:30am – 11:30am for submission (closed on weekend & public holidays)
☞ Application by mail / online is ​NOT possible.
☞ Please contact the Visa Desk​ by e-mail if you cannot find the information you need on our website, or wish to make an inquiry.
☞ Embassy Holiday for 2023 (Click here)
[THINGS TO KNOW FOR VISA APPLICATION: ]
​
※Documents and fees submitted for visa application will not be returned, regardless of the outcome.
※Visa is subjected to approval.
​
※Application is by individually. Please prepare the document as per individual application.
​
※Confirmed flight tickets and hotel bookings are not compulsory. Do not purchase any confirmed tickets as the Embassy is not responsible in case of your application is delayed or denied.
​
※The Embassy has the right to request additional documents OR call the applicant for an interview if it is deemed necessary (case by case basis).
​
※All documents submitted must be in English, Bahasa Malaysia or Korean.
※Documents in other languages must be translated by a professional translator and notarized.
​
※Applicants may need to obtain visa issuance confirmation numbers to apply for some visa types
​
​※Documents issued from overseas must be notarized by the Korean Embassy / Consulate in the origin country of the document was issued.
If a visa applicant causes physical harms to the staff or the property of the Embassy, makes verbal or physical threats, exerts inappropriate pressure, or provides any fraudulent or untruthful information or documents, he/she may be denied the issuance of visa for maximum three years.
​
​/End/