Agricultural Technology in the Republic of Korea
​Cheryl Hagen
Agricultural Technology in The Republic of Korea consists of both traditional and modern techniques. The Korean government uses ICT (Information and Communication Technology) to help farmers grow prosperous farms. A good percentage of the products have been exported and used to increase profits. This has led to the stable production of agricultural goods.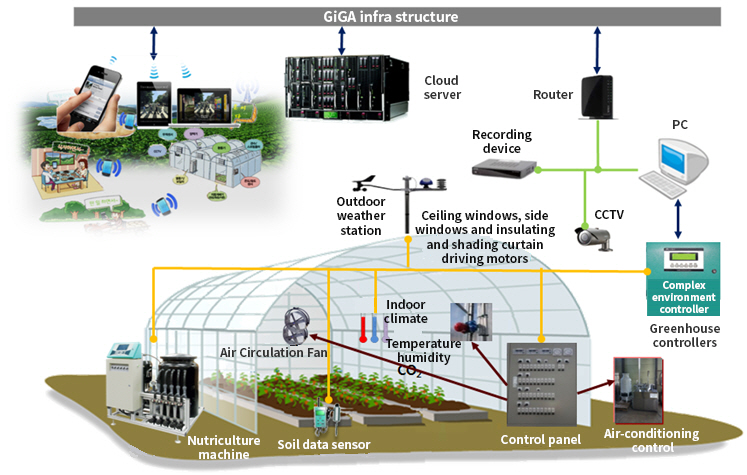 *Photo courtesy: Ministry of Agriculture, Food and Rural Affairs
(https://www.mafra.go.kr/sites/english/images/temp_1533876792509100.jpg)
​
Some farmers use artificial intelligence (AI) robots that are able to manage the whole farm and even pick thousands of ripe berries from dusk to dawn. The robots use a 3D camera to measure the size and color of the berry to check if the berry is ripe enough to be picked. Some of the advantages of smart farming are the following; year-round harvesting regardless of change of seasons, less energy consumption, pesticide-free, and less use of fertilizers.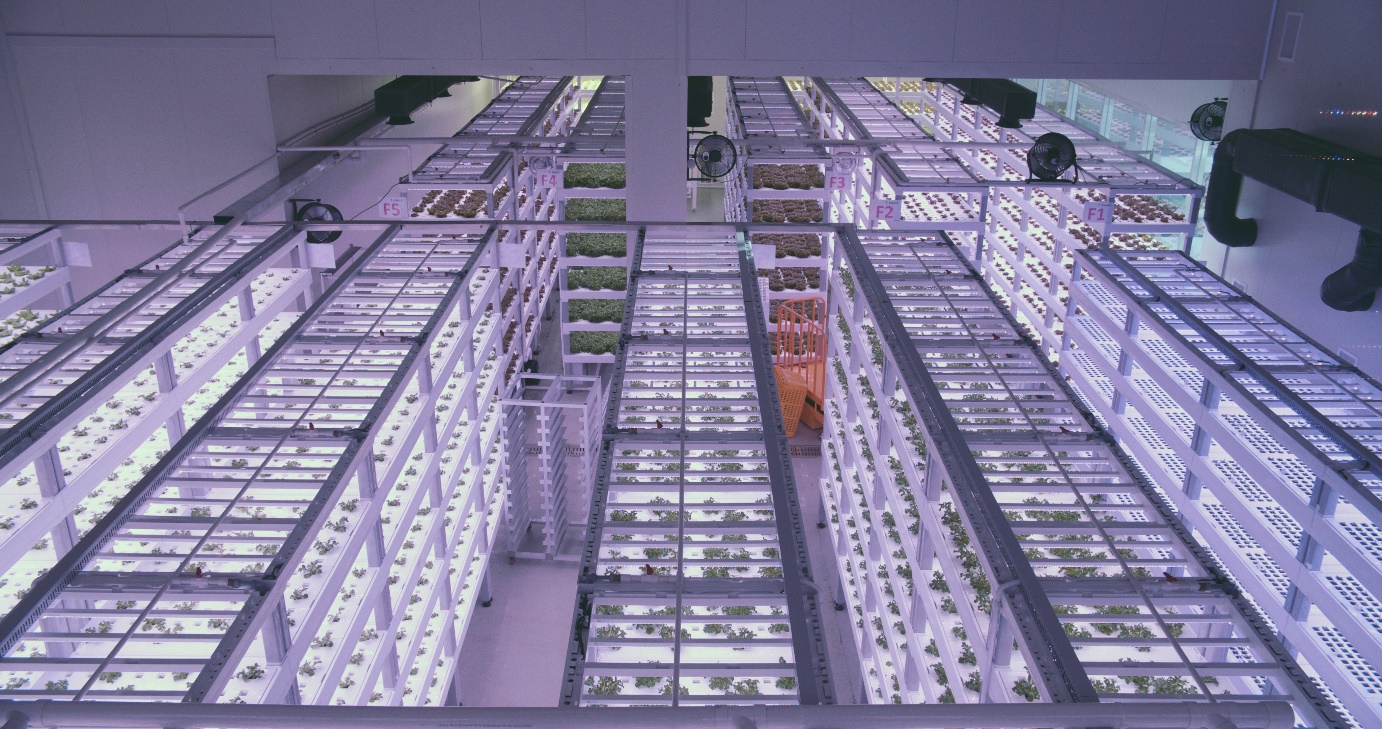 A smart farm is an indoor farm that grows crops based on a customized database. With just a touch of a button on a smartphone or a computer, you are able to monitor and control growing conditions in your smart farm remotely and while being in a different country. The computer collects and analyzes the growth phase of each plant to project the best growing conditions for the vegetables. The farm owner can also control the temperature, humidity, and amount of nutrients for their crop. Smart farming helps to increase their annual yield. Those who might struggle with the advanced technology can use voice command without having to fiddle with complicated devices.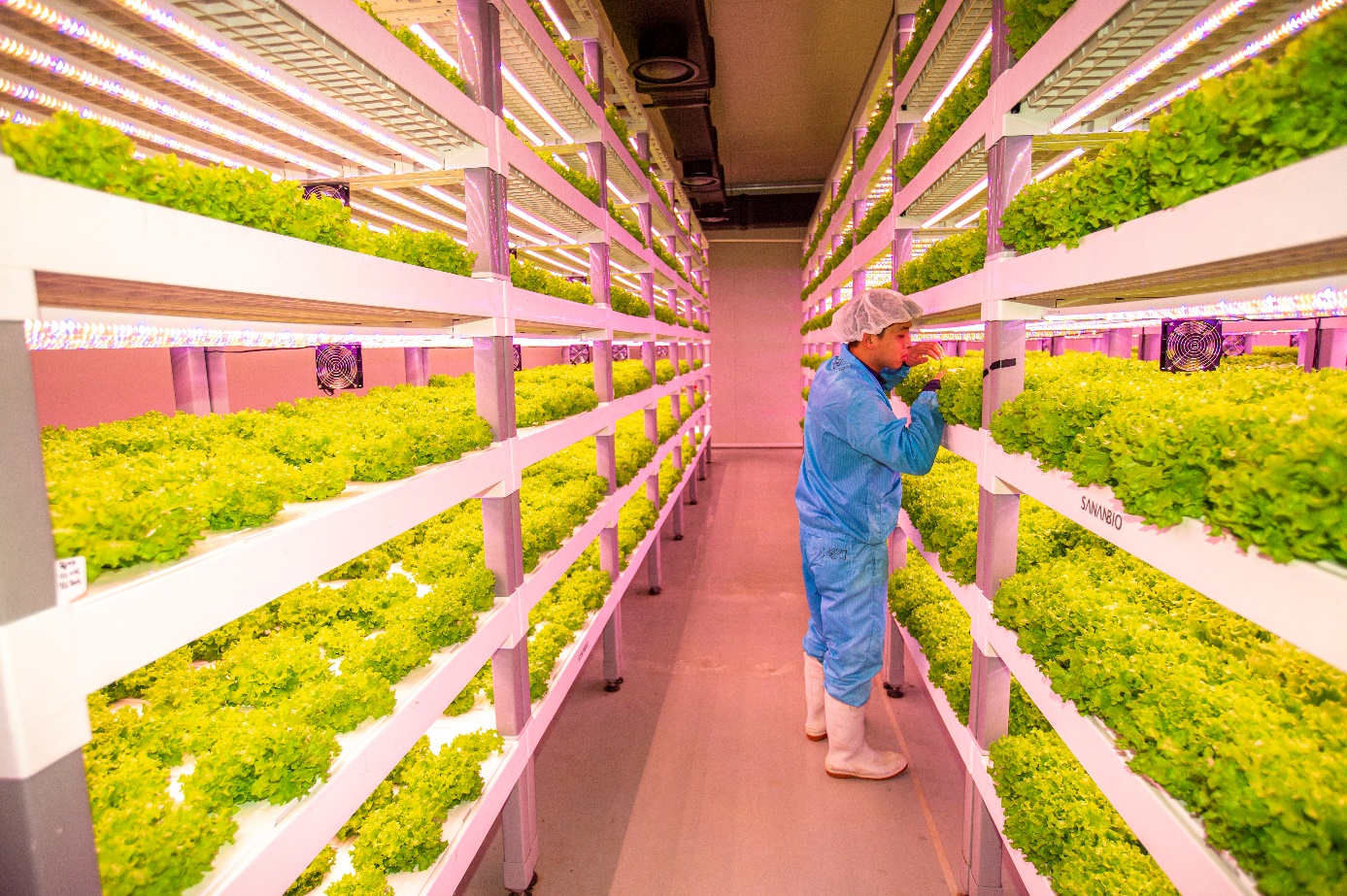 The Seoul Metropolitan Government and Farm8 (an agriculture corporation) have placed indoor vertical farms at subway stations throughout Seoul as a way to utilize unused spaces while promoting awareness towards agricultural technology. As people pass by, they are able to observe how smart farms function and at the same time breathe in the clean air it provides for the station. These vertical farms can also be seen in buildings, restaurants, and supermarkets that sell their own products. These smart farms are soil-free and use mixed water and nutritional supplements to help the crops grow. Through the process of photosynthesis, LEDs are used as their source of light and a small ventilator is used for air circulation.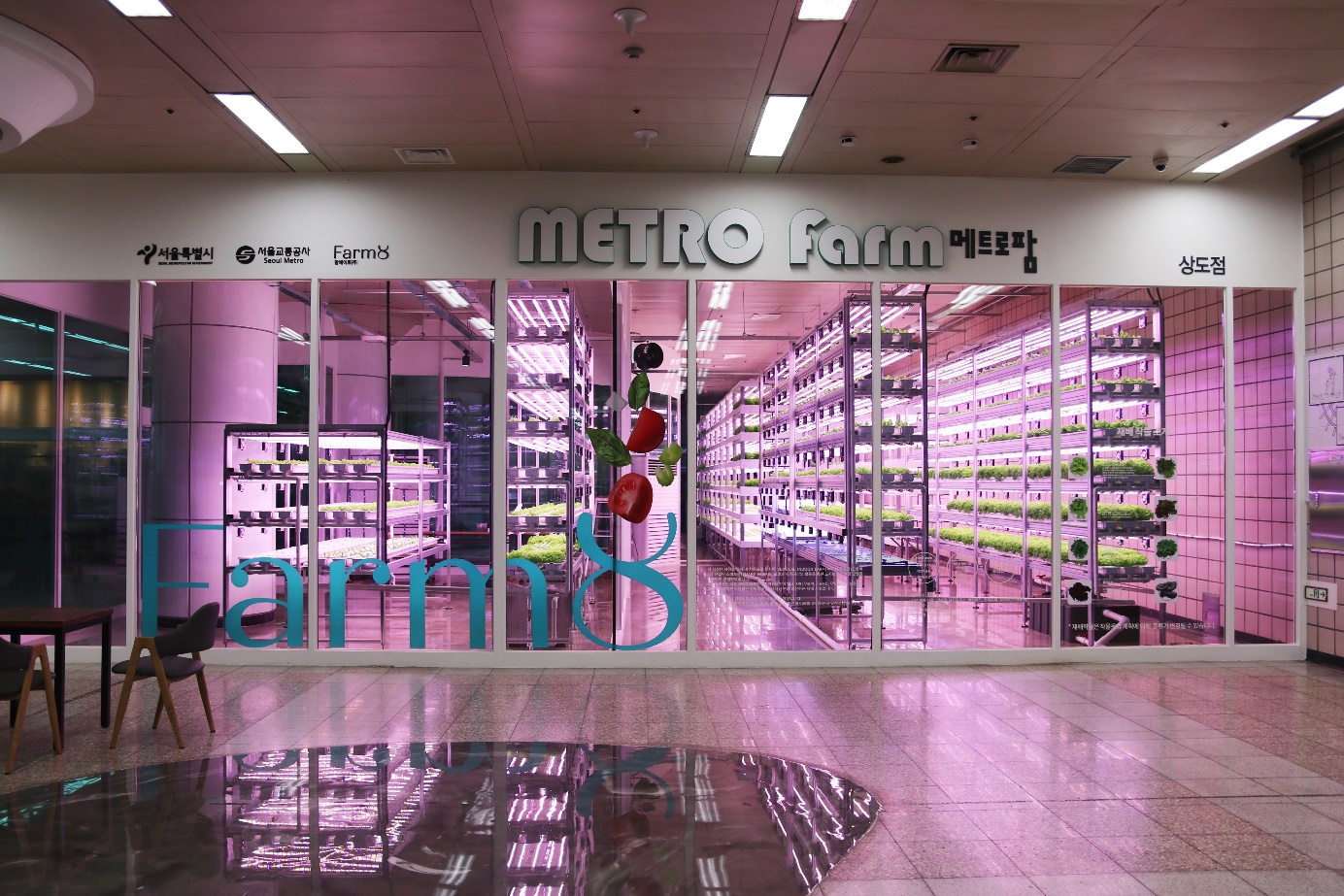 The Republic of Korea has received worldwide recognition for its reliable production of high-quality ginseng and rice and is striving to remain one of the top countries in the world for agricultural technology. The government plans to provide local farmers with smart farms for lease so they can try out new smart farming technologies. One of the aims is to get the younger generation more involved in smart farming so that they can succeed the aging generation. Special training is available from the government for those who are interested in pursuing agricultural technology.
Special thanks to Farm8 for providing the images of the smart farms.
-http://en.farm8.co.kr/
Sources:
Arirang Issue:
-https://www.youtube.com/watch?v=a5asx5vxLRM
Arirang News:
-https://www.youtube.com/watch?v=dK0Bux9N2ZI
-https://www.youtube.com/watch?v=7-u7sq6GND4
-https://www.youtube.com/watch?v=VsEfz8IVZU8
KBS News:
-https://www.youtube.com/watch?v=y8S0aPlRKN8
-https://www.youtube.com/watch?v=L-ewvM21VY4
The Korea Times:
-https://www.koreatimes.co.kr/www/tech/2020/05/129_275008.html
Ministry of Agriculture, Food and Rural Affairs:
-https://www.mafra.go.kr/english/2102/subview.do
-https://www.mafra.go.kr/english/1406/subview.do
YTN Korean:
-https://www.youtube.com/watch?v=ZyAOadDbo1Y