Korean Cafe Culture
Artur Tron
"No one can understand the truth until he drinks coffee's frothy goodness" – Sheik Abd­al­Kabir.
​
If you really like coffee, tea, or various tasty beverages, then you should visit Korea for understanding its coffee culture and experiencing different coffee shops. At first, let's look into how Korea's love affair with coffee has been started. Coffee has been one of the most attractive beverages in Korean culture for the last several decades. If you want coffee or other beverages, you can simply go into any coffee shop on your way. It is amazing because every coffee shop has its own unique atmosphere and design. You can spend time there enjoying coffee, reading a book, doing your homework, chatting with friends, working on the laptop or just sitting and enjoying the day with every sip of coffee.
​
As it was mentioned above, coffee has been attractive for several decades already. Actually, coffee was firstly introduced more than 100 years ago. Nowadays, the Republic of Korea is the 6th largest coffee consuming country in the world. Back to the history related to the café culture in Korea: the first person who drank coffee was King (later Emperor) Gojong (ruled Korea from 1863 to 1907). Then, coffee shops became popular among upper­class people in Korea. During the colonial period (1910­-1945), coffee shops were changed into Japanesestyle tea houses in Seoul. Afterwards, the American military drank instant coffee during and after the Korean War (1950­-1953). It subsequently spread throughout Korea. In 1970, the Korean government supported to establish a domestic coffee processing plant to produce "Maxwell House Coffee," (by the General Foods, Inc. USA). Since then, the instant coffee production in Korea has been attractive and popular among Koreans. In the 70-­80s, modern and themed cafés have been started. Soon, various types of coffee, tea and beverages were being sold. After the Olympic Games in Seoul in 1988, the number of Koreans who like to drink freshly brewed coffee has increased every year. Nowadays, Korea has many cafés where people are able to experience various qualities and flavors of coffee. One of the most popular coffee shop is "Starbucks", which was opened its first store in Korea in 1999. Nowadays, "Starbucks" became very popular in Korea and is attractive to students, workers, and tourists with many kinds of beverages and desserts.
​
Korean cafe culture is attractive for its diverse desserts. You can find desserts of all kinds of style ­ Korean, French, Italian, etc. Everyone can spend time, relaxing and/or have a meeting in a café with a variety of flavors of coffee from all around the world in combination with delicious desserts. In addition, there are many themed cafes in Korea. For example, there are some cafés with various animals such as dogs, cats or raccoons. Today, every coffee, tea, juice or beverage is available for everyone who visits Korea and it is really amazing.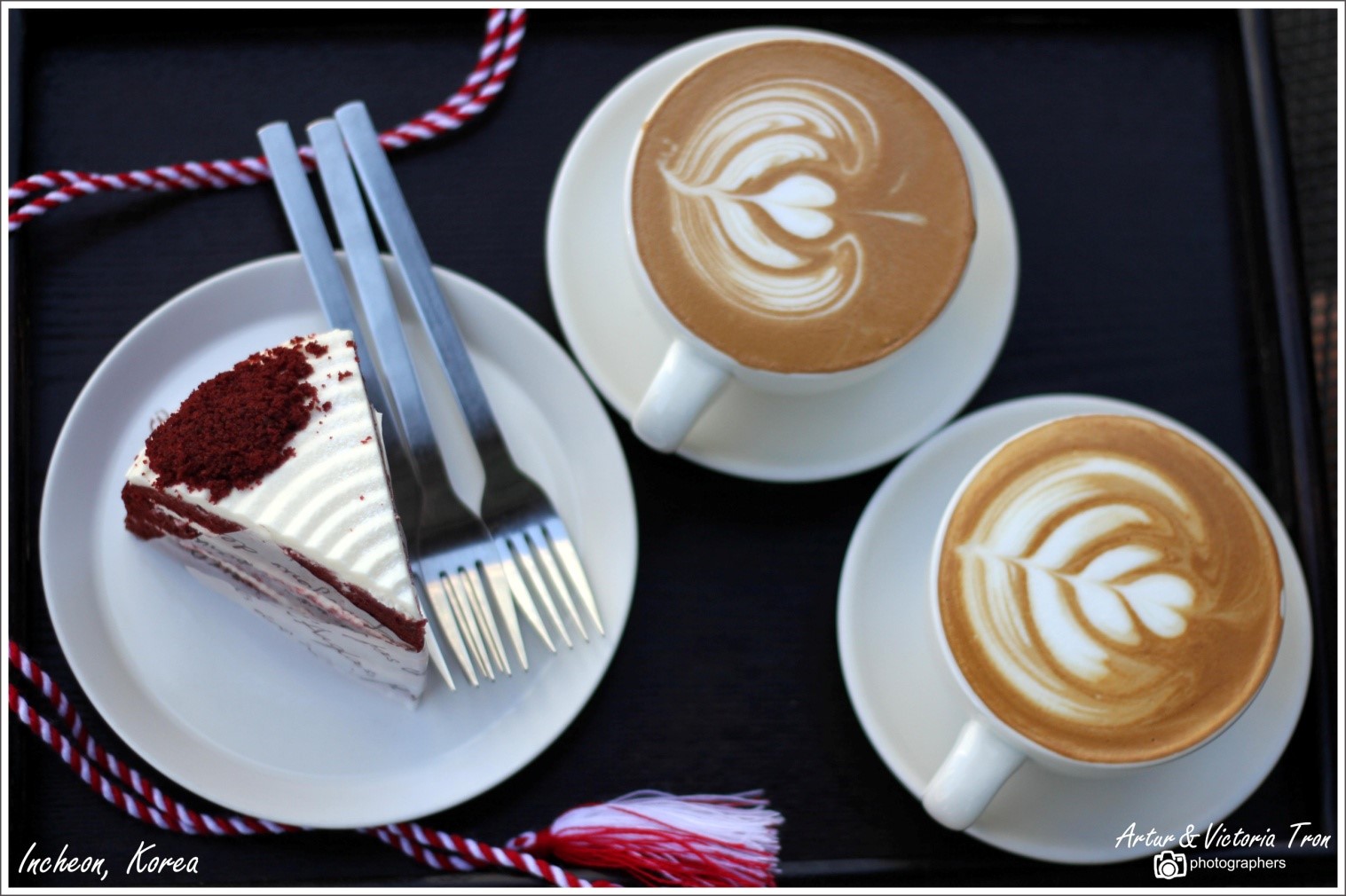 ​
Sources:
[1] Coffee : (a) Bak Sangmee, From Strange Bitter Concoction to Romantic Necessity, Korea Journal, 2005
(b) https://www.reuters.com/article/us­southkorea­coffee­idUSKCN0X12GF
(c) Shultz, Howard and Dori Jones Yang. Pour Your Heart Into It: How Starbucks Built a Company One Cup at a Time. 1st ed. New York: Hyperion, 1997.
[2] History : http://www.korea.net/NewsFocus/Culture/view?articleId=119357
[3] Travel : http://english.visitkorea.or.kr/enu/index.jsp [4] Others : https://www.olympic.org/seoul­1988