Transfer of Valid Visa from Old Passport to New Passport
If you possess a valid visa in your old passport and have since renewed your passport, you may follow the procedures below to transfer your visa to your new passport
The Korean Embassy in Singapore is only able to approve transfer of visas that were issued in Singapore. If your visa was issued outside of Singapore, you can still follow the procedures below. However, please directly contact the Korean Embassy that issued your visa if you need to follow-up on your request. For example: visa was issued in Country A → Contact the Korean Embassy in Country A to follow-up)
Steps to transfer visa (please read carefully)
1) Select "Change of Passport Information" (link) on the Visa Portal.
2) Fill in your name as per the sequence in the machine-readable zone of your passport (i.e bottom of your passport), date of birth, old passport number and visa number.
※ The visa number is the first row of numbers located at the top right hand corner of your visa sticker and would start with 2 alphabets (eg.SG1234567). Do NOT include the second row of numbers.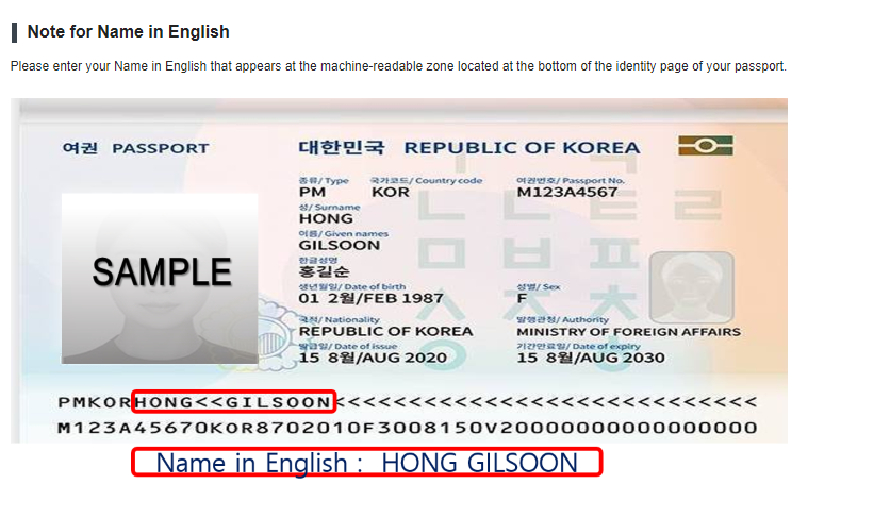 3) After completing the fields, click "Register". You will be redirected to the next page.
4) Fill in your new passport details and upload a scan copy of both your new and old passports.
5) Click "Register"
IMPORTANT NOTE:
○Transfer of visa can only be completed online.

○ Processing time is approximately 4 working days. We would not contact you separately to update on the status of your request. After 4 working days, you need click on "Check Application Status & Print" (link) to print out your new visa grant notice (☞click here☜ for step-by-step guide on how to print the visa grant notice)
○ Please note that we no longer issue physical visa stickers and you are required to carry the visa grant notice with you whenever you visit Korea.
○ If you are unable to print your visa grant notice bearing your new passport number after 4 working days, please reach out to us via email (consg@mofa.go.kr) with a copy of your visa sticker / visa grant notice.