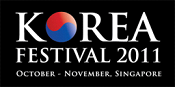 Korea Festival 2011 returns by popular demand
Two-month long celebration of Korean Culture will show the best of Korean art, Choreography, film, music, martial arts and cuisine under the banner of Korea Festival 2011.
For more details, please refer to "press release kit" below.
===============================================================
Media Release by the Embassy of the Republic of Korea, Singapore
Launch of Korea Festival 2011
The Embassy of the Republic of Korea in Singapore announced today the launch of Korea Festival 2011. This is the fourth edition of the annual Korean culture festival which first began in 2008 and this year features twelve events showcasing a broad range of Korean traditional and contemporary film, visual art, music, cuisine and martial art.
All Korea Festivals events are products of collaboration between Korean and Singaporean organisers and participants. Oh Joon, Korean Ambassador to Singapore, says that the Korea Festivals have been instrumental in drawing Singaporeans and Koreans much closer through their shared participation in lively cultural activities. This year's program continues to reflect this important mission of promoting mutual understanding.
Greater diversity for Korean-themed events
The Festival events are at the forefront of showcasing the cultural vibrancy and diversity of Korea. The enlarged scale of this year's Festival reflects the increased demand in Singapore for contemporary Korean culture and arts.
For example, taking Singaporeans' growing interest in Korean cinema, this year's Korean Film Festival has moved beyond mainstream blockbusters towards a more sophisticated selection of independent and art house films demonstrating the spirit and diversity of vision of film making in Korea today. Similarly, in response to heightened awareness and appreciation for Korean art in Singapore, the Festival will present no less than three contemporary art exhibitions, each intended to foster creative exchange between the arts communities of both countries.
Collaboration between Singapore and Korean Partners
The Korean Embassy and the Korean community in Singapore works closely with its Singapore partners in planning and presenting Festival events. These partners include the Singapore Art Museum, the Singapore Film Society, Odyssey Dance Theatre, Square 2, and Singapore Taekwondo Federation.
This year Taekwondo event, in particular, will be a lecture-cum-demonstration with the Grandmaster Jhoon Rhee, co-organised by the Singapore Taekwondo Federation, whose members will also be presented together. And the Festival Finale, Global Souls, which is directed by Singapore-founded dance company Odyssey Dance Theatre, is concurrently the Finale of the 6th biennial Xposition 'O' contemporary Dance Fiesta, the international dance festival begun in Singapore. The performance will feature a special appearance by the President of the Korean Dance Association, dance virtuoso Kim Bok Kee, among its Korean guest performers, and the piece will also be performed in Seoul after its Singapore premiere.
Something for Everyone's Participation
This year's Korea Festival will also place special emphasis on direct audience engagement. Many events this year have been designed to reach out to Singaporeans and to encourage their participation. Square 2 Shopping Mall will be the key venue for many of these events. A week-long Korean Flavours Fiesta, which includes the Korean Food Fair, will make available to shoppers a wide variety of Korean dishes and food products. At the mall, there will also be ongoing performances of modern and traditional Korean arts, including the gayageum (traditional Korean zither), samulnori (folk percussion), and taekwondo dance, so even the casual passerby can catch a glimpse of some of the entertainments lined up. Singaporeans will be able to take centre stage at Square 2 during the Festival: Korean language learners can participate in a Korean Language Speech Contest organised by the Singapore Korean International School. The auditions for K-Pop Star Hunt, the regional talent search contest organised by Korean entertainment channel tvN Asia, will also be taking place there, with the final two Singaporean contestants joining winners from other Asian countries in Seoul for professional training before competing to become a member in a new K-Pop group.
Other festival events will also offer opportunities for participation and hands-on involvement. At the Eye Pumping exhibition at Goodman Art Centre, school children can look forward to silk screen printing demonstrations and workshops conducted by the Korean artists. The Korean Agro-Fisheries Trade Corporation, together with Todai Restaurant, will be organising three cooking demonstrations for those interested in recreating authentic Korean dishes at home. And, coming together in a charitable cause, members of the Singaporean and other business and diplomatic communities will join their Korean counterparts in a Charity Golf Tournament, proceeds of which will go to charities in Singapore.
Korea Festival 2011 will be officially launched at the Korean National Day Reception on 6 October and runs till mid-November.
Festival information, event details and updates can be found on the official festival website:
www.koreafestival.sg


All Festival collaterals including brochures, photos and logos are available for do
wnload from
http://www.artpage.com.sg/kf2011