Getting a Korean Visa
▷Through Visa Processing Agency (VFS)

https://www.vfsglobal.com/korea/india/
▣ Visa Form : Normal, With Visa Issuance No.

▷Through the Embassy of the Republic of Korea
♣ Address: Embassy of the Republic of Korea, 9 Chandragupta Marg, Chanakyapuri Ext. New Delhi – 110 021

♣ Email : india_visa@mofa.go.kr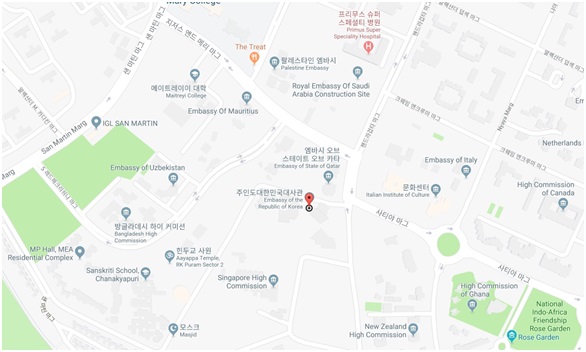 ♣ Working Hours : Monday - Friday 9 a.m - 12:30 p.m, 2 p.m - 5 p.m

♣ The Embassy, however, will accept applications for diplomatic and official visa, and other cases which require special attention on humanitarian grounds.
Required Documents from Korean Inviter (Max. 2 documentations)
1. Invitation Letter
o Photo copy/Scanned copy" of the original invitation letter is allowed.
o No Attestation is required on invitation Letter from Korea.
o No visa related document is sent to the Embassy directly or separately.
Embassy is not reponsible for the loss of those documents.
Sending visa related documents separately to the Embassy gurantees no benefits.
The invitation letter should contain the following information
- Invitee's details, such as full name, DOB, passport no., passport issue
& expiry date
- Inviter's details, such as in case of companies, name, address and phone no
of inviting company and In-charge person's contact details, and
in case of individuals, inviter's full name, ID no
(In case of foreigner in Korea, Foreigner Registration No), address and contact no.
- Inviting company/individual's registered seal/stamp or signature at the end of
the letter
2. "Photo copy" of Certificate of Business Registration of Inviting Company
o In case the inviter is

an individual,

the
copy of employee certificate
is needed.

Required Documents from Indian Applicant (Max. 2 documentations)
1. Photo copy of business registration certificate, in case of business owner,
Employee certificate, in case of individual.
2. Income Tax Return (Recent 1 year)
※ It can be noted that Visa Consul can always request the extra documents if there is any need.

Additional information for Korea Visa
o For family reunification
- If the Foreigner Registration No. or the photocopy of Alien Card of the Indian living in Korea is submitted, it can be helpful in expediting the procedures.
Reference
▷ Korea Immigration Center(visa)
▷ Jurisdiction for Visa Submission
☞ To Embassy of the Republic of Korea in New Delhi
Arunachal Pradesh, Assam, Bihar, Chhattisgarh, Haryana, Himachal Pradesh, Jharkhand, Manipur, Meghalaya, Mizoram, Nagaland, Odisha, Punjab, Rajasthan, Sikkim, Tripura, Uttar Pradesh, Uttarakhand, West Bengal, Union Territory (Delhi, Chandigarh, J&K, Ladakh)
☞ To Consulate General of the Republic of Korea in Mumbai
Maharashtra, Gujarat, Goa, Madhya Pradesh, Telangana, Union Territory (Daman & Diu, Dadra & Nagar Haveli)
☞ To Consulate General of the Republic of Korea in Chennai
Andra Pradesh, Kerala, Karnataka, Tamil Nadu, Union Territory (Lakshadweep, Puducherry)