Address and Contact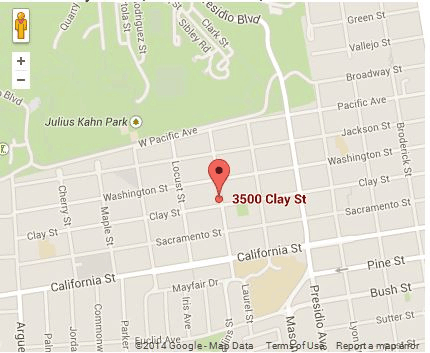 Location
3500 Clay Street, San Francisco, CA 94118
Contact Us
Telephone : [

9am-5pm PST] 415-921-2251
[5pm-9am PST, * Emergency Calls only] 415-265-4859, 415-265-4746
Free Parking Permits
Please remember that you are allowed to park your car on the white zone (both side of Clay and Laurel) of the Consulate building
Due to street cleaning, do not park on Clay street on the 1st and 3rd Thursdays 11 a.m.~1 p.m., nor on Laurel street on the 1st and 3rd Wednesdays 9 a.m.~11 a.m.
Ask for free parking permits from the reception desk, located on the right side when you enter through the main door.
Display your pakring permits on the dashboard of your car and return it when you leave.
US National and Korean National Holidays (Consulate will be closed on these days)
US National and Korean National Holidays
U.S. Federal Holidays
Observed Korean National Holidays
January 1
New Year's Day
March 1
Independence Movement Day
January 21
Martin Luther King Jr. Day
August 15
Liberation Day
February 18
Presidents' Day
October 3
National Foundation Day
May 27
Memorial Day
October 9
Hangul Proclamation Day
July 4
Independence Day
September 2
Labor Day
October 14
Columbus Day
November 11
Veterans Day
November 28
Thanksgiving Day
December 25
Christmas Day