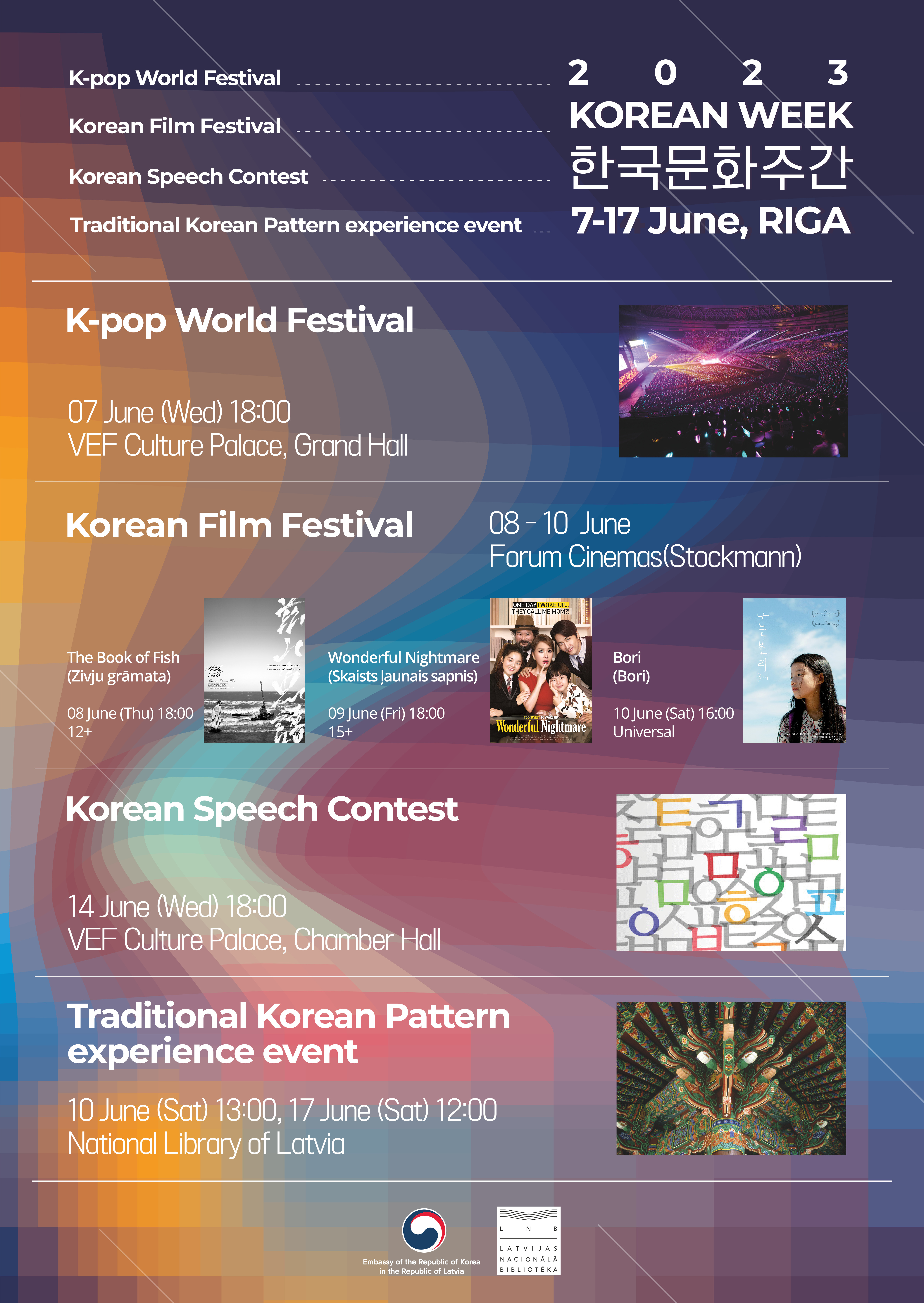 [NOTICE : 2023 Latvia K-POP World Festival (Deadline -12 May)]
The Embassy of the Republic of Korea in Latvia will hold 2023 Latvia K-POP World Festival as follows, we will be looking forward to your participation.
1. Date and place: June 7, 2023 (WED) 18:00, Grand Hall in VEF Culture Palace
- Application
o Application Deadline: Until May 12, 2023 (FRI)
o Announcement of Festival Participating Team (10-12 Teams) : May 22, 2023 (MON)
o Eligibility: Latvian nationality
o Applicable category: Vocal / Cover Dance
o How to Apply : Submit completed application form (attached file) and video link to embassy mail (culture_lv@mofa.go.kr)
- Email Title must be as follow: 2023 K-Pop + Application Team Name + Category (Vocal/Cover Dance Classification)
- Vocal, Cover Dance video: You must upload a video of performing one song of your own choice to Google Drive and attach a sharing link in the email contents (You must check if the video is sharable and playable in google drive before submission)
※ The meaning of the vocal field is that one or two people can sing the entire song or participate as a group to perform part-by-part singing and dancing like K-POP girl/boy group.
※ You can't participate in overlapping team or category.
2. Awards
- 1st place in the cover dance field: Galaxy Wireless earphones (eight pcs)
- 2nd place in the field of cover dance: Wireless charger set (eight pcs)
- 1st place in vocal field: Smart TV (one)
- 2nd place in vocal field: LG Sound Bar (one)
※We will recommend the finalist as candidates if KBS K-POP World Festival holds in Korea.
3. Audience attendance
- The event will be held in the form of a concert, so you can freely come and watch it without a separate ticket, and there are also lottery prizes for audiences, so please come and enjoy the concert.
[Paziņojums: 2023 Latvia K-POP World Festival (Pieteikšanās termiņš – 12. maijs)]
Korejas Republikas vēstniecība Latvijā rīkos 2023 K-POP World Festival Latvijā. Lūdzam apskatīt zemāk esošo informāciju, un aicinām ikvienu piedalīties festivālā.
1. Datums un vieta: 2023. gada 7. jūnijs, plkst. 18.00 VEF Kultūras pils Lielajā zālē
- Pieteikšanās
o Pieteikšanās termiņš: līdz 2023. gada 12. maijam
o Paziņojums par komandām, kuras piedalīsies festivālā (10-12 komandas): 2023. gada 22. maijs
o Pieteikšanās nosacījums: Latvijas pilsoņi
o Kategorijas: Vokāls / Kaverdeja (Cover Dance)
o Kā pieteikties: Jānosūta pieteikuma forma (atrodama pielikumā) un video saite uz vēstniecības e-pastu (culture_lv@mofa.go.kr)
- E-pasta temata sadaļā ir jābūt rakstītam šādi: 2023 K-Pop + Komandas nosaukums + Kategorija (Vokālā/Kaverdejas kategorija)
- Vokālais, kaverdejas video: Jums ir jāaugšupielādē Google diskā video, kurā izpildat vienu Jūsu izvēles dziesmu, un e-pasta saturā jāpievieno koplietošanas saite (pirms iesniegšanas Jums ir jāpārbauda, vai videoklipu var koplietot un atskaņot Google diskā)
※ Vokālajā kategorijā var, piemēram, viens vai divi cilvēki (duetā) dziedāt dziesmu, vai arī var uzstāties uz skatuves kā grupa (dziedot un dejojot kā K-POP grupa).
※ Viena persona nedrīkst piedalīties vairākās grupās vai kategorijās.
2. Balvas
- 1. vieta kaverdejas kategorijā: Galaxy bezvadu austiņas (astoņi gab.)
- 2. vieta kaverdejas kategorijā: Bezvadu lādētāja komplekts (astoņi gab.)
- 1. vieta vokālajā kategorijā: Smart televizors (viens gab.)
- 2. vieta vokālajā kategorijā: LG skaņas josla;
※ Uzvarētāji tiks rekomendēti kā kandidāti, ja KBS K-Pop World Festival norisināsies Korejā.
3. Informācija skatītājiem
- Pasākums tiks rīkots koncerta formātā, tādēļ aicinām ikvienu nākt skatīties pasākumu, iepriekšēja rezervācija un biļete nav nepieciešama. Skatītāji varēs piedalīties izlozē un laimēt balvas, tādēļ aicinām nākt un skatīties koncertu.