2022 Quiz on Korea
Hosted by the Embassy of the Republic of Korea in New Zealand
Register at https://forms.gle/Uuu5pnjBVL6v86Yj8
The Embassy of the Republic of Korea in New Zealand is hosting the 2022 Quiz on Korea competition in New Zealand. The Quiz on Korea is a quiz contest on Korean culture and language for non-Korean New Zealanders who are studying Korean. It is an exciting opportunity for those who want to enhance their interest and knowledge on the Korean culture.
There will be 2 rounds (preliminary, final round) held online in New Zealand and the FINAL WINNER with the highest score will be invited to the 2022 Quiz on Korea Final round in KOREA!
Register now and show us your Korean skills.
​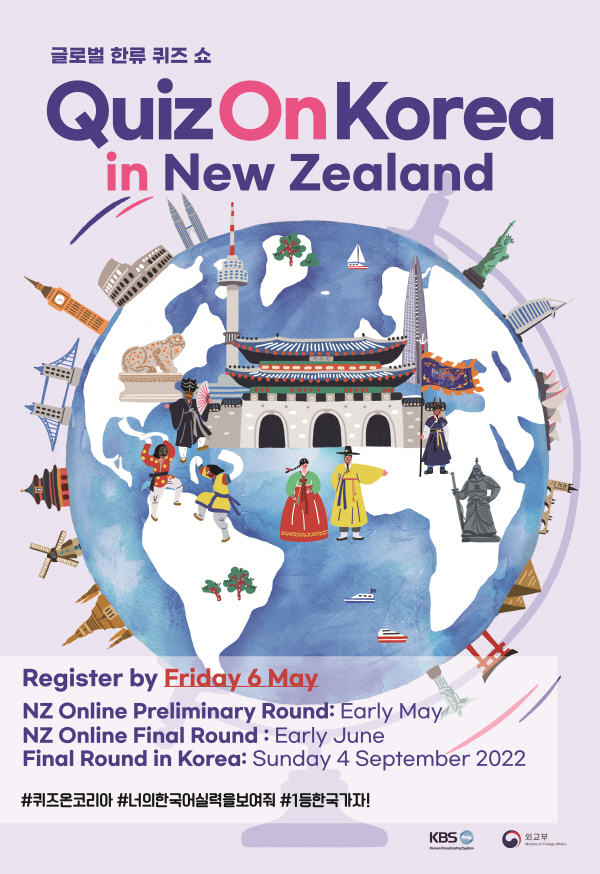 ■ Eligibility:
– You must be a New Zealand citizen and 18 years or older.
– Participants and their immediate families are NOT of Korean nationality or ethnicity. You are not eligible if you are an overseas Korean or have more than one immediate family member who is Korean.
– You should be able to speak both English and Korean, as most questions will be in both languages.
- Contestants must not be restricted from travelling overseas to be available to visit Korea for the Final Round (the exact date to be confirmed later) in Korea.
- Able to understand, read and communicate in Korean
■ Online Application:
- Online applications are open until Friday 6 May 2022 at 11:59pm
Online Application for Quiz on Korea https://forms.gle/Uuu5pnjBVL6v86Yj8
– Personal information submitted for this event will only be used for the purpose of this quiz contest, such as sending gifts to participants and finalists. The information will never be used for any other purposes.
■ Quiz Format: Online
- Participants will receive further detailed information about the contest by email on including the Quiz application
- Participants are highly advised to secure a good, stable Wi-Fi or internet access during the online contest as the organisers do not take personal troubleshooting into consideration.
- Please participate under your registered name.
- The quiz consists of short introduction of yourself in Korean, short-answered& multiple choice questions written in English and Korean side-by-side.
*Please take note that your application will be regarded as agreement with such exposure
■ Prizes for the winners:
- Contestants for the Final round in New Zealand will receive a souvenir
- Final Winner gets a chance to visit Korea for the 2022 Quiz on Korea World Finals
*Final Winner will be asked to turn in few documents
We hope Quiz on Korea can provide opportunities for New Zealanders to flex their Korean knowledge and language skills, and further take interest in the Korean culture!
​