Exhibition
The 24th Juried Contemporary Art Exhibition; Circumstances
Date : Friday, May 25, 2018 - Thursday, June 14, 2018
Time : All day event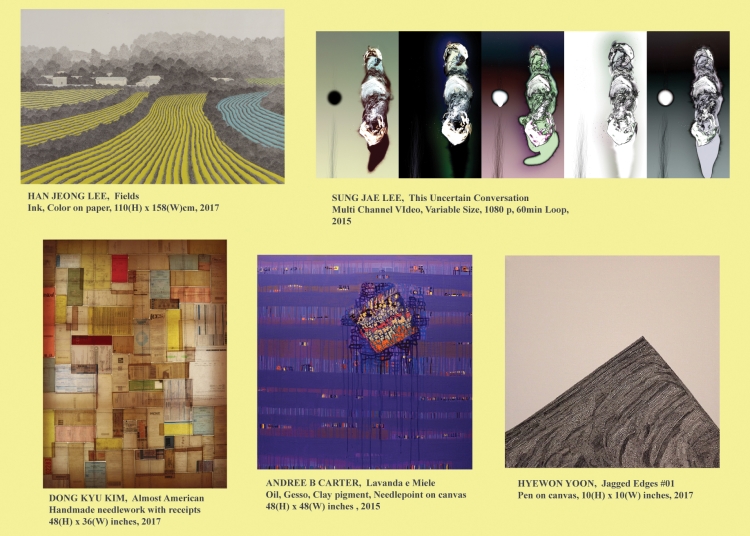 ▶ Date : May 25th ? June 14th, 2018
▶ Place : Korean Cultural Center Los Angeles, 2nd Floor, Art Gallery
5505 Wilshire Blvd. LA, CA 90036
▶ Opening Reception : Friday, May 25th, 2017 at 7:00-9:00p.m.
▶ Participating Artists : Andree B. Carter (LA, CA)
Dong Kyu Kim(Fort Lee, NJ)
Han Jeong Lee (Fullerton, CA),
Hyewon Yoon(Chandler, AZ),
Sung Jae Lee (LA, CA)
▶ More Information : Heeseon Choi at 323-936-3014 or exhibition@kccla.org
▶ Reservation : www.kccla.org/english/programs_reservation.asp
The Korean Cultural Center, Los Angeles proudly presents its 24th Annual Juried Exhibition which will consist of a variety of contemporary artwork by five talented artists. These artists were selected by jurors Susan Gray, creative services manager of LA County Metropolitan Transportation Authority, and Patricia Gomez, curator of the Irvine Art Center from a pool of work submitted by more than 60 artists.

The juried exhibition draws from the submissions entered through an open call and is judged on the slides and electronic files submitted by the artists. Since its debut in 1993, the annual juried exhibition has become one of the most popular events at KCCLA. It has grown steadily through the generosity of its supporters and the enthusiasm of the artists who submit their work. This year's exhibition includes the work of artists working across America. Regardless of the much dissimilarity in their environment, ideology, artistic character and economic background, these artists all share very important characteristics that has brought them to one place; their creative processes in developing a visual statement of their lives to present and share with us all.

Director Nak Jung Kim of the Korean Cultural Center, Los Angeles mentions that, "We are trying to communicate with other communities through art and culture. You will find talented Korean artists in context with their non-Korean colleagues, and see the parallel connections that link together artists from around the country to here at the Korean Cultural Center, Los Angeles."

The exhibition is open to the public and the announcement of the prize-winners will be made at the opening reception on Friday, May 25th, 2018 at 7:00p.m. at the KCCLA 2nd floor, Art Gallery. The show will run until June 14, 2018.