Direction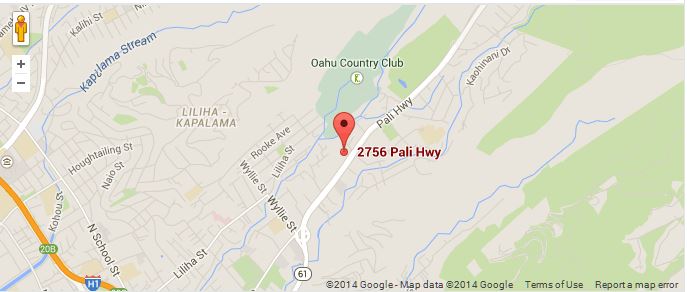 From East : Head west on H1 and take exit 21B for Pali Hwy. Keep right at the fork, follow signs for Hawaii 61N/Pali Highway. Continue onto Pali Hwy and make a U-turn at AHI Pl.
From West : Head east on H1 and take exit 21A for Hawaii 61 toward Pali Hwy. Turn left onto HI-61N/Kailua. Make a U-turn at AHI Pl.
Address and Contact
Address

2756 Pali Highway Honolulu, Hawaii 96817 U.S.A

Contact information

(Phone) 808 -595 -6109
(FAX) 808 -595 -3046
(Emergency Number) 808-265-9349
(24 HR Hotline) +82-2-3210-0404
(Military Department) 808-595-6662
(E-Mail) consulatehi@mofa.go.kr
(Visa or Passport) visapasshi@mofa.go.kr
(Military Department) rokmilrep@mofa.go.kr

If you have any suggestion or question regarding our services, feel free to contact us by mail or phone.
Office Hours
Civil Service : Monday-Friday, 8:30am – 4:00pm (last walk-in applications are accept at 11:30am in the morning, and at 3:30pm in the afternoon)
Closed for Lunch: 12:00pm-1:00pm
Holidays Observed
Holidays
U.S. Federal Holidays (2019)
Korean National Holidays (2019)
January 1
New Year's Day
March 1
Independence Movement Day
January 21
Martin Luther King Jr. Day
August 15
Liberation Day
February 18
Presidents' Day
October 3
National Foundation Day
May 27
Memorial Day
October 9
Hangul Proclamation Day
July 4
Independence Day
September 2
Labor Day
October 14
Columbus Day
November 11
Veterans Day
November 28
Thanksgiving Day
December 25
Christmas Day