Directions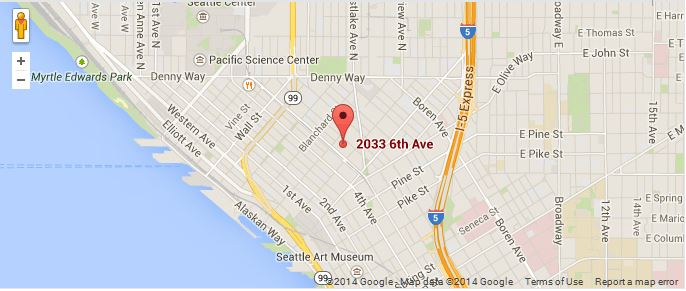 Address and Contact
Address: 2033 6th Avenue Suite #1125, Seattle, WA 98121
Phone: 206-441-1011~1014
Fax: 206-441-3552/7912
Email: seattle0404@mofa.go.kr
After-hours EmergencyContacts (EMERGENCIES ONLY)
Accidents/ Incidents
☏ 206-920-4979 (Officer),206-707-3712 (Officer), 206-799-1152 (Consul)
Passport
☏ 206-999-0743 (Officer), 206-799-1152 (Consul)
* For general inquiries, please contact us during regular business hours. After-hours Emergency Contacts should only be used in EMERGENCIES ONLY.
How to Get Here
By Car
From the North

Take I-5 Southto the Stewart Street Exit towards Denny Way, exit #166. Bear right onto Stewart Street and stay in the far right lane. Turn right onto 6th Avenue. The Consulate General will be a block and a half up on your left.

From the South

Take I-5 Northto the Seneca Street Exit, exit #165. Turn right onto 6th Avenue. The Consulate General will be about seven blocks up on your left.
By Bus
The Consulate General is serviced by over 30 different Metro Transit and Sound Transit bus routes.
Please consulthttp://metro.kingcounty.gov or http://www.soundtransit.orgfor more information on the routes most convenient to you.
Parking Information
Parking is available in the parking garage building located behind the Consulate General. You may enter the garage by turning left onto 5th Avenue from Lenora Street. It is thesecond garage on your left. You can park your car in any spot and on any floor, except for the spots marked as reserved parking.
The parking rates are as follows

0~30 min : $6
30 min~1hr : $9
1hr~2hr: $13

※ You may access the Consulate building from the 2rd floor of the garage.

Street parking is also available around the Consulate at the rate of $2.50 per hour(maximum of two hours).
Consular Jurisdiction
Washington, Oregon, Idaho, Montana, Alaska
Holidays Observed
Korean National Holidays
March 1 : Independence Movement Day
August 15 : Liberation Day
October 3 : National Foundation Day
October9 : Hangul Day
United States National Holidays
New Year's Day
Martin Luther King, Jr. Day
Presidents Day
Memorial Day
Independence Day
Labor Day
Columbus Day
Veterans Day
Thanksgiving Day
Christmas Day