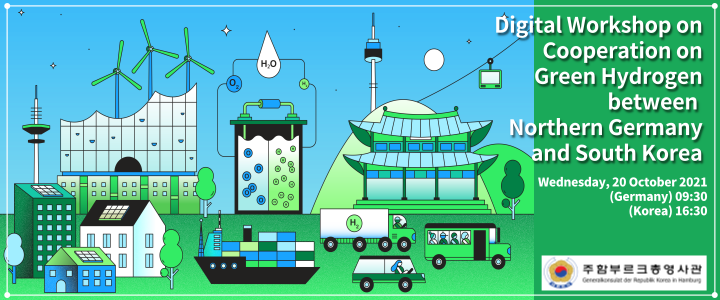 The Consulate General of the Republic of Korea in Hamburg is hosting a Digital Workshop on Cooperation on Green Hydrogen between Northern Germany and South Korea in the morning of Wednesday, 20 October 2021. Green hydrogen has proven itself as a key to carbon-free economy across the globe. Northern Germany, in particular, is leading a number of initiatives to position itself as the strongest future region for green hydrogen in Europe, backed up with its extensive expertise in wind energy. At the same time, South Korea is taking initial steps to embrace green hydrogen in its journey to a hydrogen economy with solid governmental support and advanced automobile technology.
The Consulate aims to bring together the important players of the two countries in the field of green hydrogen, and promote the interaction and synergy between the future partners. From Northern Germany, Hamburg Renewable Energy will give an overview of the green hydrogen economy in Hamburg. It will be followed by Heide Development Agency, which is carrying out a number of green hydrogen value chain projects including Westküste 100. Vattenfall will also share its insight on transforming the old coal-fired power plant in Moorburg into an industrial scale electrolyser for green hydrogen.
For the South Korean side, two government agencies will introduce their roadmaps to foster a green hydrogen economy in their local provinces. Saemangum is a tidal flat on the west coast of Jeollabuk-do, which lies in the southern-west part of the Korean peninsula. It has sources of solar and wind power in the same region, backed up with a local airport, new port facilities and railway system. Saemangeum Development and Investment Agency will share its experiences and future plans in developing a green hydrogen production cluster in the region, which also includes the building of a 100MW electrolyser and twenty-four hydrogen fueling stations.
​
In the meantime, northeast province of Gangwon-do, the newly designated Regulation Free Special Zone for liquid hydrogen, aims to build up a comprehensive value chain for hydrogen industry in the region. Gangwon Technopark will enlighten us with their progressive plan to build hydrogen vessels and fueling stations with a business park for liquid hydrogen. And last but not the least, Hyundai Motor Group, a pioneer in hydrogen vehicles, will make a presentation on its fuel cell batteries. The Group will also share its experience in exporting mass-produced large-sized hydrogen trucks to Europe and other parts of the world.
After the presentations, a panel discussion will follow to contemplate on the ways to enhance cooperation in the field of green hydrogen between the two countries. Experts and important players in the Korea-Germany trade and investment will share their insights and exchange opinions.
The Digital Workshop will be held in the English language, and is open to all stakeholders who are interested in the potential of cooperation in the field of green hydrogen between Northern Germany and South Korea. You are welcome to make a registration at the link below. More detailed information will follow shortly and upon request.
Registration: Link

Contact person: Ms. Jeeyoung Kim, Consul, General Consulate of the Republic of Korea in Hamburg / jeeykim07@mofa.go.kr