Checklist for Foreigners travelling to the Republic of Korea
For all foreigners who wish to travel to Korea short or long term, please read the below information regarding entry and Covid19 regulations. Currently there are no quarantine requirements for people entering Korea including unvaccinated people. However, you will be subject to a 7-day quarantine if you are tested positive/diagnosed COVID in your after-entry PCR test. From 3rd of September, Koreans and Foreigners will not be required to take a pre-departure PCR test and submit a negative certificate. ​
​1. Pre-departure Negative PCR test certificate will no longer be required to enter Korea from 3rd Sept 2022
From 3rd September 2022, pre-departure PCR(RAT) test and negative certificate will not be required to enter Korea, for all Koreans and Foreigners.
2. All nationals entering Korea will not be required to do a 7 day mandatory quarantine.
3. Mandatory for entry: K-ETA or Valid Visa
o From April 2022 , nationals of visa waiver countries or designated visa-free countries must obtain ETA (Electronic Travel Authorization) before entering The Republic of Korea. Please visit this link for more information.
​
​For entry to Korea, all foreigners must have a K-ETA or a valid visa to enter Korea. The K-ETA process will take up to 72 hours and the result will be sent to your email address directly. Please have the printed hard copy ready.
Irish nationals are eligible to enter and stay in Korea for up to 90 days with a K-ETA for tourist purpose.

​※You do not need a K-ETA if you have a valid visa to enter Korea.
※ The Embassy can not solve or answer K-ETA related questions. Please inquire the K-ETA Q&A page. 
​
​4. Q-code system.
Using the Q-code system is recommended for all people entering Korea to upload their health condition and after entry Covid test results.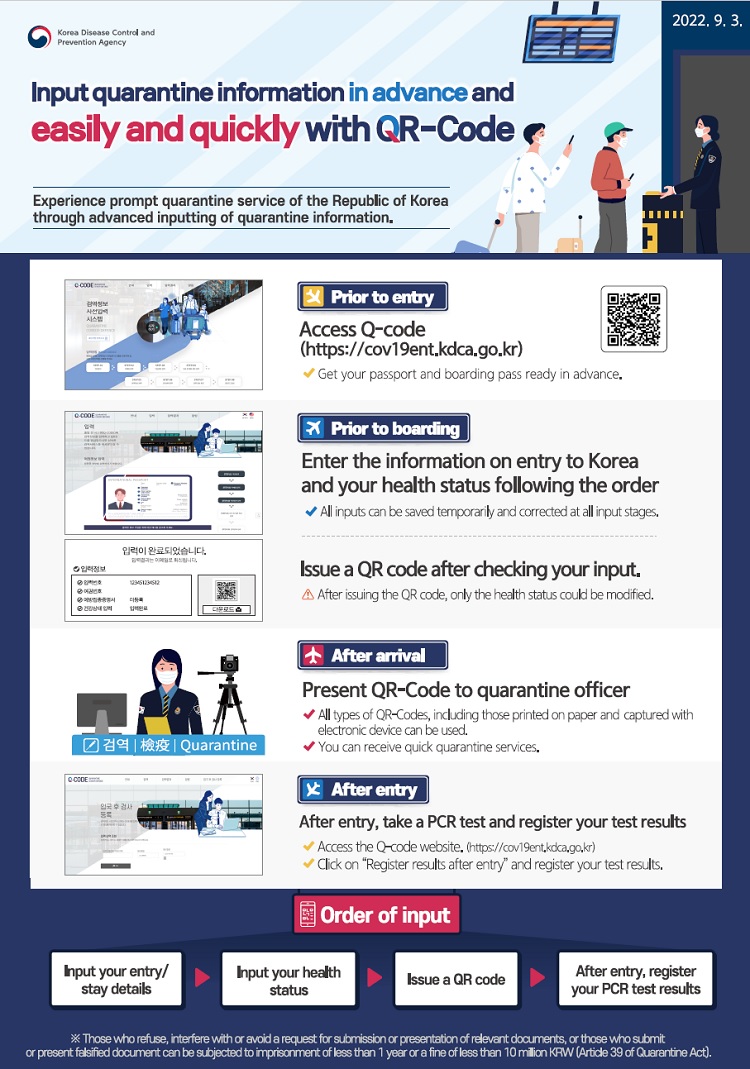 5. After-entry Covid test will not be required from 1st of October.
Day 1 PCR test will not be mandatory from people entering Korea from the 1st of October. Korean and foreigners who wish to get a Covid test, may visit the Public Health center of their resident area to get a test free of charge.